New Blue Ridge Book
A new Blue Ridge book will be released by Jay Parker in October. Jay is a long time Blue Ridge dealer and will have it available at this year's Blue Ridge show in Erwin, TN October 1st - 3rd. For more information click on the image of the book below.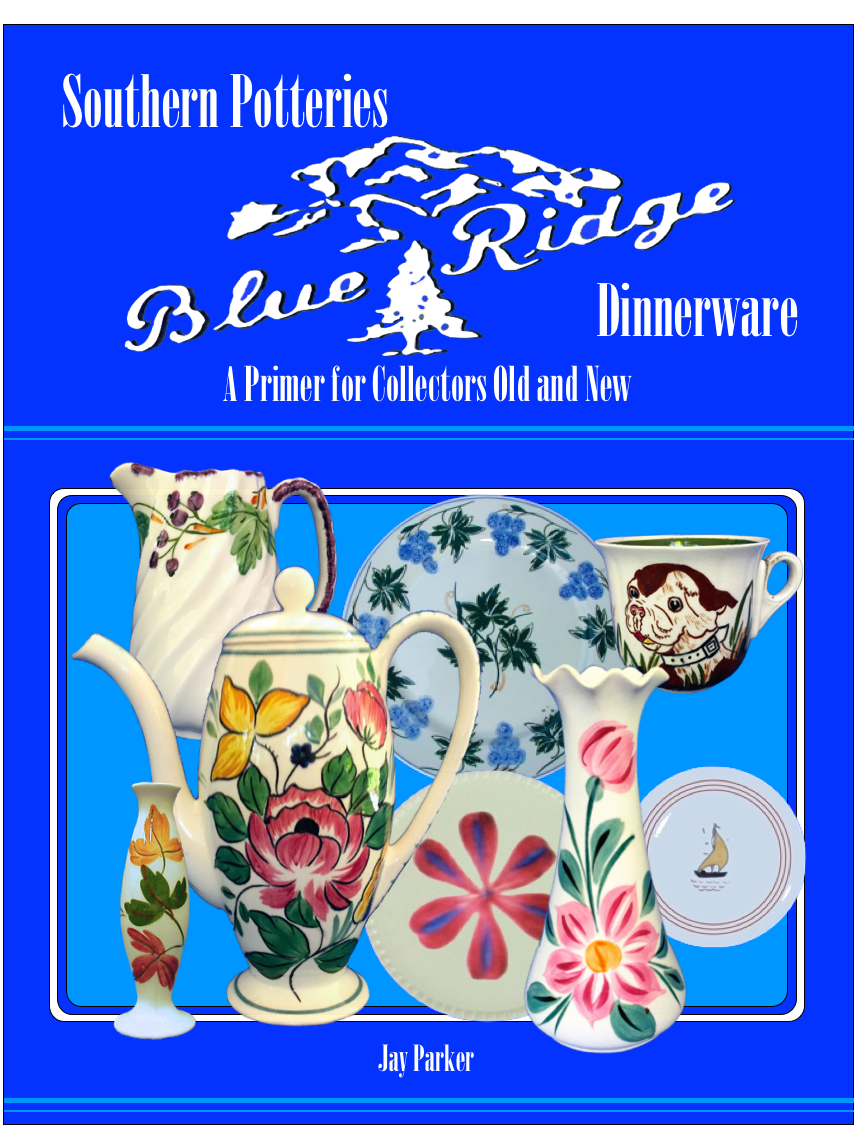 2017 Blue Ridge Show
The 2017 Blue Ridge Show will be held October 6th and 7th at the Unicoi Intermediate School in Erwin, TN. A preview sale will be held on from 5 - 8 p.m. on Thursday October 5th. For more information click on the photo below.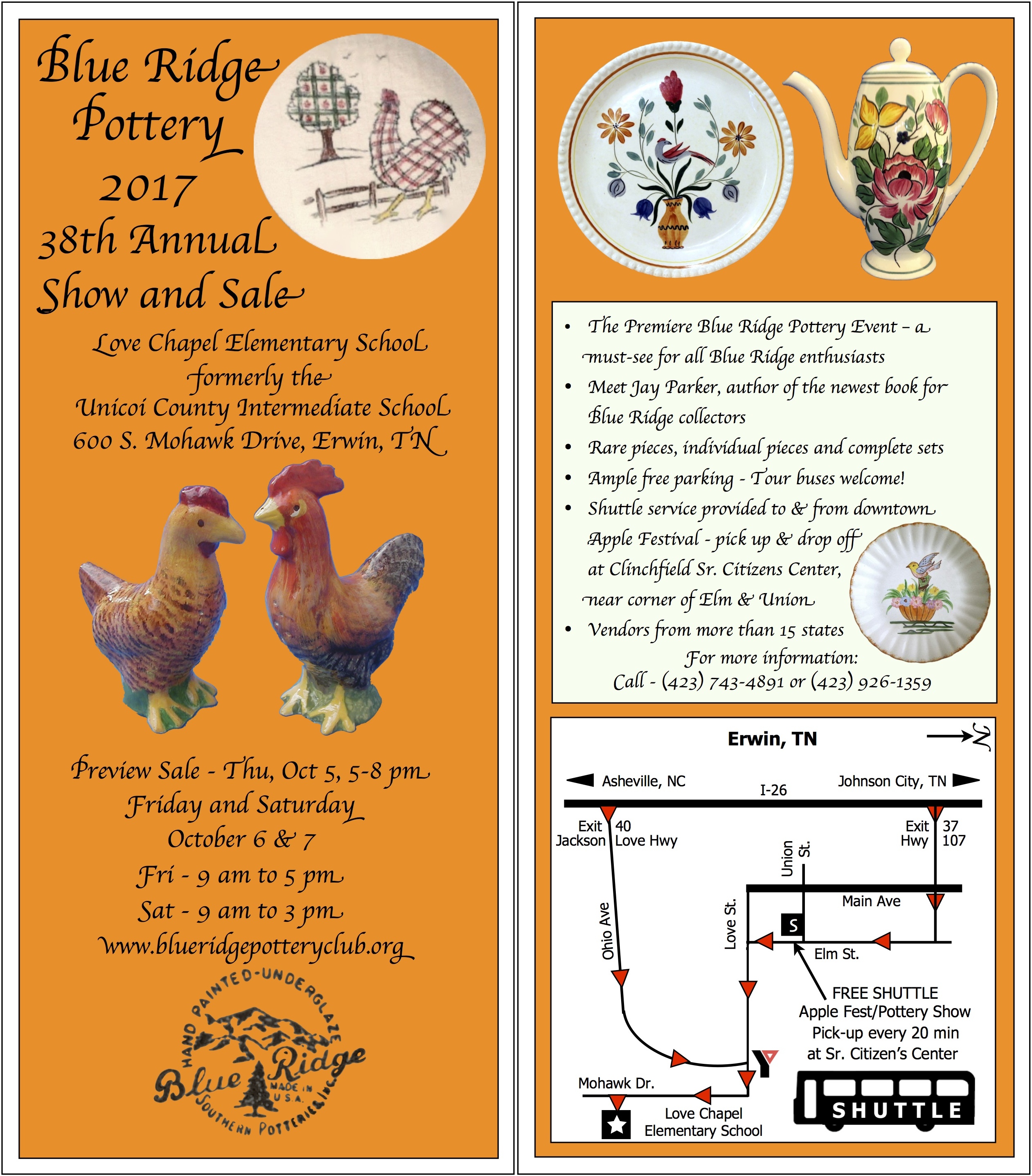 2016 Blue Ridge Show
The 2016 Blue Ridge Pottery Club show and sale was held October 6th - October 8th. Below are a few pictures from the show. Click on an image for a larger view.
here
.
I'm happy to help identify patterns or answer your Blue Ridge questions. See the Contact page for more information. The Pattern ID pages also may help.
Ruffin's
Latest

Book

Frances and John Ruffin's fourth book, Blue Ridge China Trends, is now available. There are newly identified patterns, images of many sets, hundreds of full-color images of many patterns and shapes, and an updated price guide. The book has 209 spiral bound pages that document the evolution of Southern Potteries from the decal era, through the beautifully hand painted designs that they were noted for, and on to the final years of modernistic design that American potteries produced in the late 1950's.
A signed copy can be purchased directly from them on their website: Blueridgechina.com
Looking for something in particular? Check here!
Wanted
Have a pattern or particular piece you're looking for? I may have or be able to help find those pieces. See the Contact page for more information.
This page contains numerous items including a history of Southern Potteries, and a page of the various marks used by the pottery over the years. A 'Want List' of pieces sought after by other collectors can also be found here.
Interesting Ebay Auctions
Some rare and hard to find pieces are still selling very well on ebay. Listed below are a few of those auctions and final selling prices (shipping cost not included).
| | |
| --- | --- |
| Red Barn China Shakers | $417 |
| Rose Hill Ovide Teapot | $224 |
| Anniversary Song Ruffle Top Vase | $128 |
| Dimity Sherman Lily Box | $495 |
| Daniel Boone Character Jug | $331 |
| Chintz Chocolate Tray | $1310 |
| American Beauty Sherman Lily Box | $455 |
| Turkey Gobler Artist Signed Plate | $455 |
| Swiss Dancers Maple Leaf Relish | $105 |
| Brittany Ball Teapot | $355 |
| Fall Colors Ruffle Top Vase | $153 |
| Fall Colors Mini Virginia Pitcher | $158 |
| Chintz Breakfast Set, minus the Egg Cup | $1359 |
| Chintz Ovide Teapot | $155 |
| American Beauty Sherman Lily Box | $481 |
| Chintz Chocolate Tray | $1009 |
| Mistress Mary Pie Server | $305 |
| 6" Sailboat Plate | $127 |
| Mallard Duck Box & 2 Ashtrays | $456 |
| Calico Bulbous Vase | $77 |
| Mistress Mary Pie Server | $305 |
| Duck Box w/2 ashtrays | $456 |
| Duck Box | $330 |
| Beaded Apple Covered Toast | $155 |
| Bird Dog 12" Plate | $1162 |
| Turkey w/Acorns Cups & Saucers (6) | $649 |
| Fala 12" Plate | $1102 |
| Elegance Alice Pitcher | $172 |
| Turkey Gobbler Artist Signed Platter | $600 |
| Foxgrape Spiral Pitcher | $313 |
| Red Barn Spiral Pitcher | $300 |
| Piece of Cake set | $699 |
| Chickory Center-Handle Relish | $307 |
| Mariner 9" Plate | $156 |
| Christmas Doorway - green edge | $205 |
| Flamingo 8" Plate (Carribean Set) | $280 |
| Sailfish 8" Plate (Carribean Set) | $380 |
| Rose Hill Antique Pitcher | $712 |
| Duck in Hat Childs Plate | $360 |
| Mistress Mary 8" Plate | $357 |
| Rose of Sharon Milady Pitcher | $267 |
| Mallards 17" Platter | $2500 |
| Turkey Gobbler 17" Platter (Nelsene Calhoun) | $710 |
| Spinning Wheel (Country Life Series) Square Plate | $229 |
| Fall Colors Grace Pitcher | $183 |
| Indian Character Jug | $750 |
| Anniversary Song Mini Antique Pitcher | $305 |
| Anniversary Song Mini Spiral Pitcher | $302 |
| Melody Betsy Jug | $305 |
| Melody Betsy Jug | $365 |
| Flower Children Childs Mug | $213 |
| Flower Children Feeding Bowl | $188 |
| French Peasant Ovide Teapot | $285 |
| Baby Squirrel Childs Plate | $462 |
| Miss Mouse Childs plate | $302 |
| Pleasant Acres 9" Plate | $184 |
| Miss Mouse Childs Plate | $228 |
| 16th Century Lady 12" Plate | $1125 |
| Songbirds Salad Set (Astor) | $416 |
| Yellow Ribbon Breakfast Set | $415 |
| Anniversary Song Betsy Jug | $599 |
| Yellow Bunny Divided Feeding Dish | $483 |
| French Peasant Chocolate Tray | $1526 |
| Wild Turkey Artist Signed Platter | $568 |
| Melody Chocolate Pot | $616 |
| Dimity Sherman Lily Box | $570 |
| Blue Ridge Counter Sign | $480 |
| Turkey w/Acorns cup & saucer (4) | $522 |
| Indian Character Jug | $688 |
| Sprout Childs Mug | $280 |
| Yellow Bunny Childs Plate | $256 |
| Blue Heaven Breakfast Set | $355 |
| French Peasant Chocolate Set w/tray | $2277 |
| Bird Dog 12" Plate | $1065 |
| Indian Charcater Jug | $760 |
| Chintz Ovide Teapot | $350 |
| Weathervane Loop Handle Relish | $365 |
| Anniversary Song Mini Spiral Pitcher | $760 |
| | |